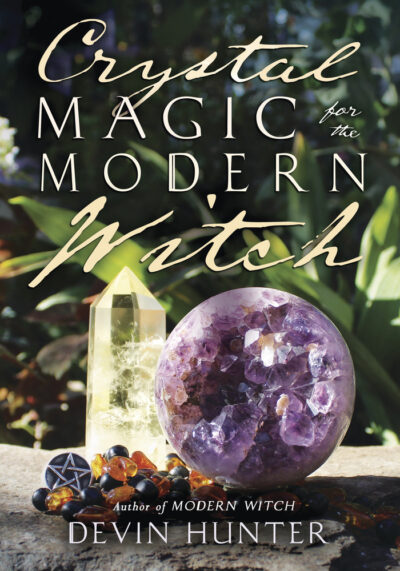 Crystal Magic for the Modern Witch
Featuring more than 130 full-color photos throughout, this must-have book is the ultimate resource on crystals and how to partner with them for potent magic. Bestselling author Devin Hunter presents an immense collection of recipes, grids, correspondences, and activities that help the modern witch begin or advance their crystal practice in amazing ways.
Crystal Magic for the Modern Witch presents detailed information on 100 crystals, gems, and metals, covering everything from their physical, mental, and spiritual benefits to vibrational keywords and origin countries. Find out what element, tarot card, affirmation, plants, and planets are associated with each crystal. Discover how to cleanse and program a crystal, create gem elixirs, and communicate with different kinds of crystal-aligned spirits. This impressive guide also provides dozens of spells and workings for protection, well-being, success, and divination.
Modern Witch | Spells, Recipes, and Workings
Spells, Rituals, and Workings for the Modern Witch
Filled with magical workings, lush photography, and creative inspiration, Modern Witch is a dazzling display of art and craft. Esthetic meets esoteric as author Devin Hunter shows how to work magic for love, healing, protection, prosperity, and divination. Color photos and artistic renderings show essential aspects of the workings, helping you develop a successful magical practice that achieves the results you desire.
With dozens of spells, rituals, and recipes from the personal grimoire of a working witch, this book empowers you to work with dynamic magical energies and fulfill your deepest spiritual, physical, and emotional needs. With this powerful magic, you don't need to wait for some unknown fate; you can take charge and create your own.
Discover an authentic collection of spells, recipes, charms, and correspondences that have been used and refined by the author for nearly twenty years. Combined with the author's original photographs and art, these teachings illuminate the five most popular types of magical entreaties: love, healing, protection, prosperity, and divination. Within these pages you will find spells and workings such as:
A Love Magic Charm Bag • A Finger Scrying Spell • The Bottle of 1,000 Eyes • A Spell for a Correct Diagnosis • The Witch's Foot Spell • A Serpent Candle Spell • The Jupiter Budget Working • A Golem Fetish • The Prayer of Fortuna • A Self-Love Spell • The Honey Jar Spell • A Himmelsbrief for Success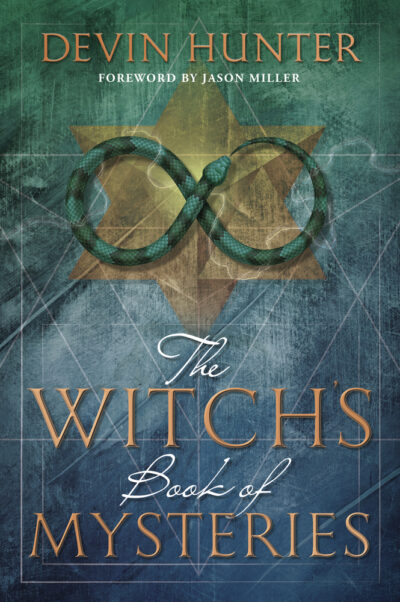 The Witch's Book of Mysteries
Book Three of the Witch Power series.
Reclaim Control of Your Magic and Your Life
Transcend Your Limitations and Enter the Pyramid of Light and the Labyrinth of Darkness
Devin Hunter, author of groundbreaking works The Witch's Book of Power and The Witch's Book of Spirits, makes a powerful statement on how you can deepen your Witch Power and further develop your relationships with familiars, guides, spirits, and gods. The Witch's Book of Mysteries invites you to embark on a pivotal journey designed to help break you free of the illusory cultural energies that hold you back from true magical vitality.
With spells and rituals drawn from the author's own book of shadows, this book explores energetic self-orientation, the Witch's Eye, and the Witch's Tree—techniques that will support and embolden you on your quest to achieve personal gnosis. Learn the extraordinary practices of the Witch's Dream and the Witch's Sabbat, and initiate into the mysteries of the Cosmic Grigori, primordial guardians of space, time, matter, energy, and quintessence. Ultimately, the path of the witch takes you to the six gates of the Labyrinth of Diana. Through these gates, the authentic nature of the soul is found and God Herself is revealed.
The Witch's Book of Power
Book One of the Witch Power series.
"Devin Hunter's new book digs deeply into the roots of what makes a witch powerful. He doesn't gloss over the soul-searching work with simple spell "bandaids." Instead, he offers readings and exercises that empower the witch in mind, body, and soul."—Courtney Weber, author of Brigid: History, Mystery, and Magick of the Celtic Goddess
Ignite the Holy Fire Within: Become the Witch You Were Meant to Be
Witchcraft isn't always about the search for enlightenment; sometimes it's about power and the path to obtaining it. The Witch's Book of Power shares the secrets to unlocking the Witch Power within you, offering specific techniques for working with personal, cosmic, and ally energies to realize your full magical potential.
Professional witch and psychic Devin Hunter has helped thousands of people discover their power and gain influence, and in this book he skillfully explores the concepts behind creating magic that can change your life. The Witch's Book of Power is the perfect resource for witches who intuitively feel that more power is available but seems to be just beyond reach.