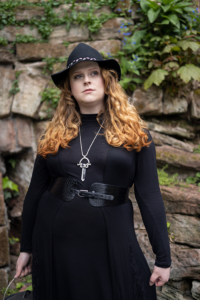 Mhara Starling (She/Her) was born in North Wales and raised on Ynys Môn (The Isle of Anglesey). She is a first language Welsh speaker, and a Welsh folk Witch. Mhara's practice is inspired and informed by the landscape upon which she was raised, and the legends, lore, and spirits of that land.
Being a Welsh folk Witch means that Mhara's practice includes elements of Welsh folk magic, Celtic polytheism, and an animistic view of the world. In 2022 Mhara released her debut book, Welsh Witchcraft: A Guide to the Spirits, Lore, and Magic of Wales. She now operates a coven in Cheshire, England called Cylch y Sarffes Goch (Coven of the Red Serpent). Along with her coven Mhara runs workshops, classes, and events both in their local area and at various festivals.
Mhara has appeared on both English and Welsh television, where she has shared aspects of what it means to be a modern Witch, as well as her experiences as a transgender woman growing up in a rural Welsh community. She was featured most prominently in the BBC documentary series Young, Welsh, and Pretty Religious (2019) and the Welsh language S4C series Am Dro! (2022).
Online she can be found creating content surrounding Welsh folklore, myth, folk magic, and Witchcraft on YouTube, TikTok, Patreon, and elsewhere. You can support her work via Patreon.